The Macintosh version of Monkey Island 1, aside from its music, is virtually indistinguishable from the MI1 PC CD; the Mac port also has a special graphic filter, which is the original version of the Advanced Mame 2X shading used in ScummVM.

The MI1 CD in ScummVM. LucasArts' Mac games' "graphic smoothing" scaler is also coded into the Entertainment Pack copies of Full Throttle and Sam and Max Hit the Road.
However, the Macintosh MI1 had a very different interface during production. This scan of an article from Adventurer #3 shows it clearly: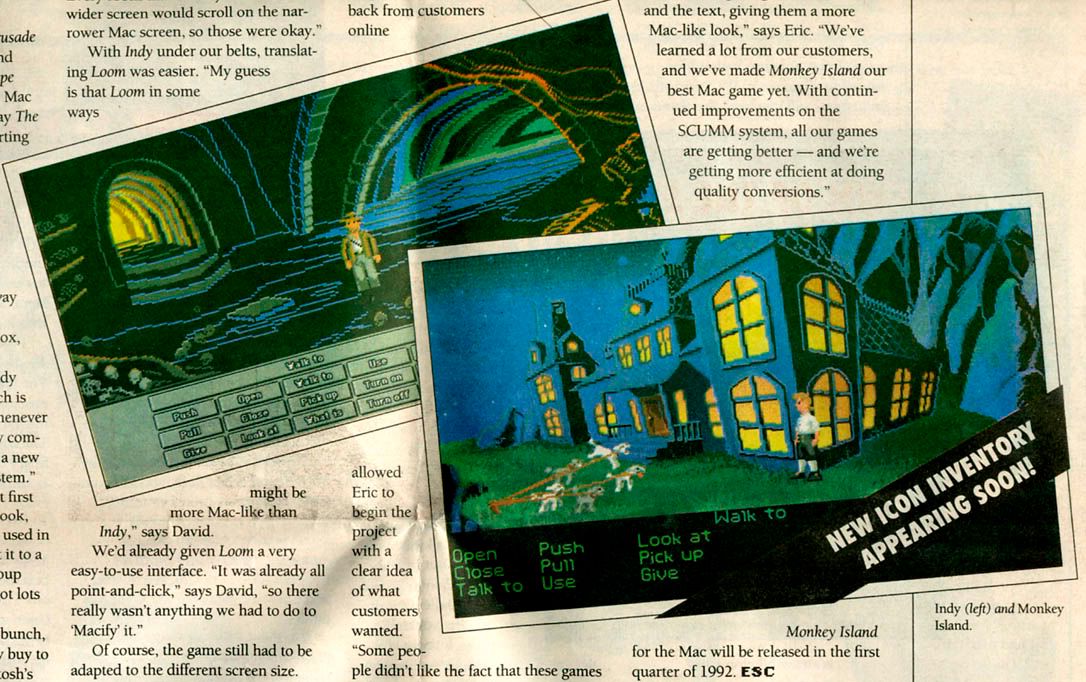 Although there were only 9 verbs, in every other respect the work-in-progress Mac port resembled the disk version of MI1, including the text inventory.
For some reason this strange GUI never saw the light of day, probably because it didn't look very good once inventory icons had been added.
(A similar GUI alteration happened during work on Monkey Island 2 at around the same time.)
Using ScummVM's AdvMame 2x filter, I've created several facsimile screenshots of the MI1 Mac conversion.
They are not actual screenshots of it, but I've done my best to make them accurate.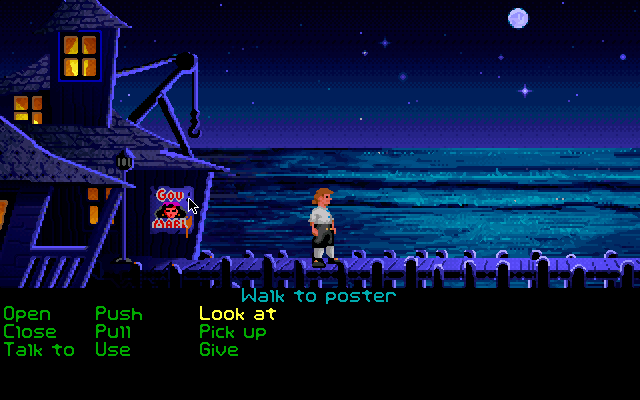 Guybrush on the dock that links Melee Town to the rest of the island.

Inside the kitchen. Stewed meat, anyone?

At the Voodoo Lady's parlor, Guybrush wonders whether that Grail over there is a wise or poor choice.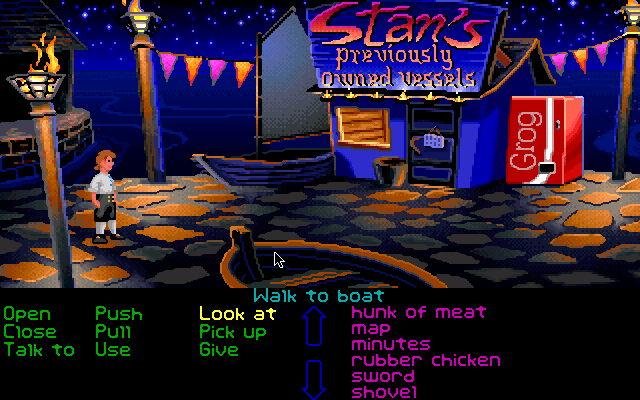 While Stan's away, Guybrush wanders into his shipyard to check out the boats without being harassed.

The swanky Marley Mansion is ripe for plundering.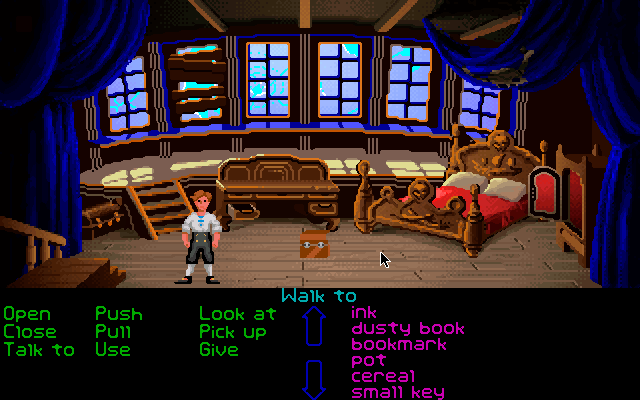 Guybrush discovers the directions to Monkey Island, evidently bought from the Melee Island mapseller.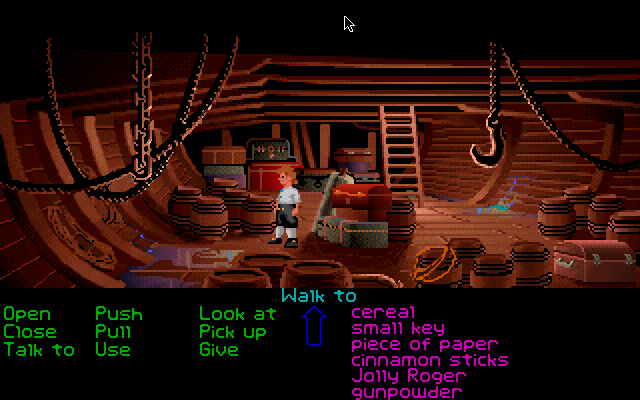 Like many other males, Guybrush is excited by the destructive potential of gunpowder.

Monkey Island. Is there a secret lurking in that humid jungle? We may never know.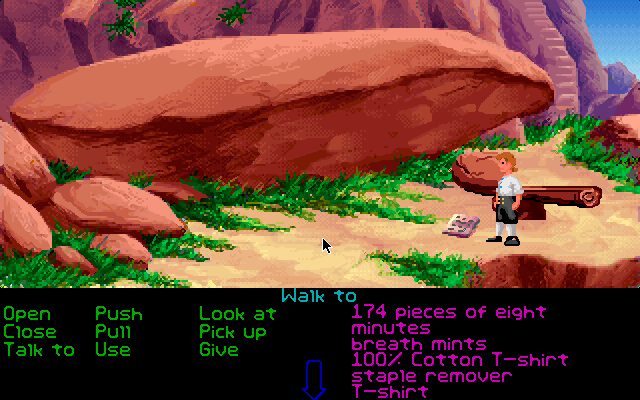 Primitive art? Looks more like modern art to me...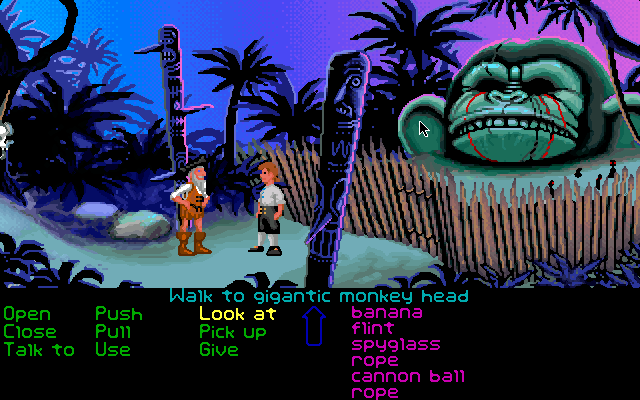 Herman Toothrot admires the Monkey Head while Guybrush prays silently for him to just go away.

Yet another memo. Where do the Cannibals get their fancy paper from, anyway?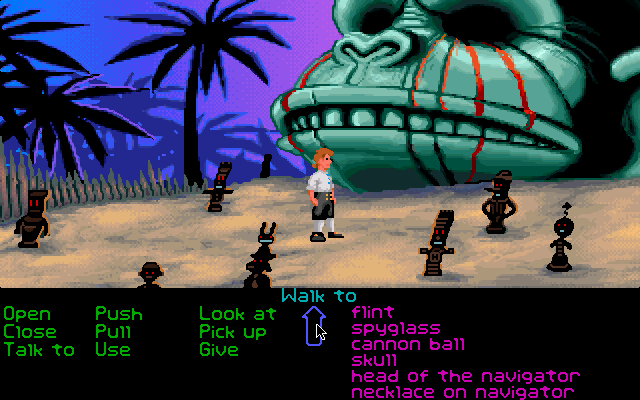 Armed with a living severed head and a giant cotton swab, Guybrush Threepwood prepares to brave the hellish caverns of...um...hell?

Bones of stone. Stone bones. Phoney Bone. I've been playing too much of Telltale's stuff, it seems.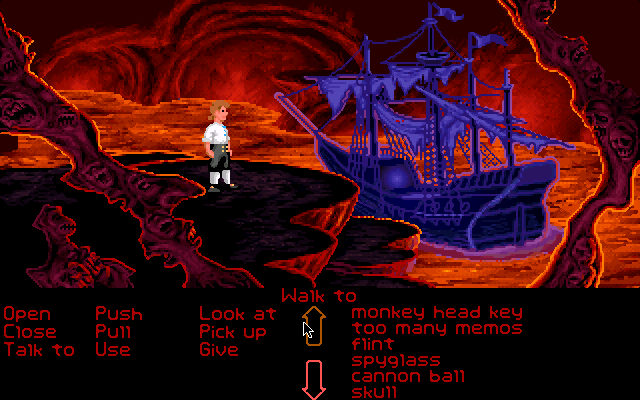 I wonder how a ship becomes a ghost ship, anyways. Maybe some sort of elaborate voodoo ritual?

The ghost ship's brig is empty, but conveniently for the plot, Guybrush can't see inside.